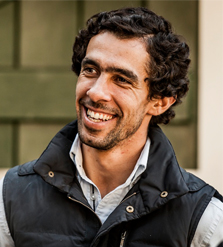 Short Biography
Gonçalo Carvalho  is a Portuguese Equestrian, born 1 April 1982 in Lisbon.
Grandson of Mestre Abel de Carvalho, a close collaborator to iconic Mestre Nuno de Oliveira., Gonçalo Carvalho  entered the prestigious Escola Portuguesa de Arte Equestre. with only 18 years old… There, he chose  the Alter Real foal Rubi as a  young horse to break in and start to train… Rubi was later to  become his first Olympic partner.
Gonçalo Carvalho  has been uninterruptedly  Portuguese National Champion between 2010 and 2016. With only 35 years old, he has participated in all the more
important competitions worldwide, such as  European Championships (2011,2013 and 2015), 2010 WEG in Kentucky and 2012  London Olympics, where he finished 16
Between 2013 and 2016, Goncalo rode the talented Lusitanian mare Batuta and once again delivered very high quality performances in GP all over Europe. His Grand Prix Freestyle, on the soundtrack of Game of Thrones, has delighted the audience, as well as his discrete and very classical way to ride.  .
In parallel with his competition career, Goncalo holds Dressage Clinics worldwide and is also a breeder.