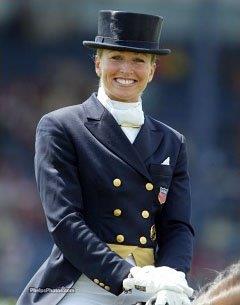 Short Biography
Lisa Wilcox is an American Dressage Equestrian born in Arizona. 
Lisa grew up on the family ranch where, very early, it became  clear that horses would play a central role in her life. After studying equine science, Lisa started to ride in eventing tests, and it was her German husband at the time, Jan Ebeling, that awoke her interest for dressage.
Her passion for dressage brought her in 1993 to Germany for 3 months  to train for Herbert Rehbein , that she regarded as "a genius horseman". After her divorce, she was back in Europe again in 1994 as a trainer at Gestut Rheinsehien. She then met Gudula Vorwerk-Happ and Ernst Hoyos (from the Spanish Riding School of Vienna) that was for her a fundamental trainer.
Lisa trained a great number of horses from all different ages and levels accumulating a unique educational experience. With Rohdiamant and Relevant, Lisa was appointed in 2000 to the American Olympic Dressage team, won first the silver team medal at the 2002 WEG, then  received in 2003 the individual silver medal at the Open European Championships and finally the team bronze at the 2004 Olympic Games. Lisa became the first American to ever reach the FEI World Ranking list's top ten of the world's best  dressage riders.
Lisa continued then to train several horses up through GP with great succes and dedication. In 2004, she worked for 1 year in Switzerland, then returned to Florida where she was received as a dressage star.
For the past decade, Lisa has developped an even greater reputation as a trainer, competitor and horse person in USA, bringing so many horses up through GP successfully as well as collaborating with brands such as County Saddlery, Pikeur, and Sprenger. All of this following her famous motto : "Do it with a smile".